Outdoor Education
The outdoor education program for Elementary students includes both a vibrant, STEAM education aspect (AstroCamp School/VA) with an environmental education aspect (Echo Hill Outdoor Environment School/MD).
Both programs provide opportunities for children to develop skills that help with their personal sense of responsibility, independence, initiative, communication, collaboration, creativity, critical thinking, and risk taking. Both programs place the students in a friendly, safe environment with strong adult leadership and supervision where students develop their non-cognitive skills so necessary for success in higher education and their future work environments. Together, these programs provide a single and complementary outdoor education curriculum.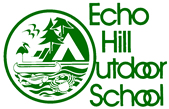 Lower Elementary On-Campus Outdoor Education Program
Echo Hill visits Barrie Campus annually to work with Lower Elementary (grades 1-3). An outdoor program with Echo Hill's naturalists and its well-developed science and ecology curriculum, all Lower Elementary students are guided to understand, appreciate and make personal connections with the unique environmental resources of the Barrie Campus. As students smell, touch, see, hear, and taste to learn, abstract concepts become real, tangible, and visible. Students learn to observe, incorporate previous knowledge, formulate questions, and draw conclusions. Activities include individual and group initiatives aimed at building and enhancing confidence, self-esteem, and cooperation. There is no cost to parents for the Echo Hill on Barrie Campus visit.
Traditionally, the environmental education program that Echo Hill offers our students has been excellent and we wish to maintain our outdoor relationship with them. However, we will no longer have distant, overnight trips for lower elementary; overnight trips will now begin in upper elementary. Instead, we are extending the "Echo Hill on Barrie Campus" program annually to all of our Grades 1-3 students. We are working with Echo Hill to offer a rich program with a different environmental focus each year for the Barrie campus. With gratitude and appreciation for all that Echo Hill provides to our students and teachers, we are hopeful to continue this beneficial relationship for many years.

Upper Elementary Overnight Outdoor Education Program
Over the course of two years in UE, grades 4 and 5 students will have participated in two outdoor education overnight trips. One year students attend a two-night/three-day trip to AstroCamp School/Virginia, and the following year they attend a two-night/three-day trip to Echo Hill Environmental Education School on Maryland's Eastern Shore. The residential cost of these trips is billed to the family of each attendee.
AstroCamp School/ Virginia is an experiential overnight science program that focuses globally on Earth and Physical Science, Astronomy, and Space Exploration. The classes are taught in state-of-the-art labs, offering dynamic hands-on experiences with scientific apparatus to stimulate curiosity and allow the students to have fun with science, technology, engineering, and math. Upper Elementary classes are led by skilled instructors, all scientists with a minimum of a bachelor's degree and many with advanced degrees. AstroCamp School/Virginia is located on 406 acres of rolling green hills in Clover, Virginia. For additional information, visit the website.
Depending on COVID-19 restrictions, Echo Hill Outdoor Environment School/MD will take place in May, 2021.
Echo Hill Outdoor Environment School/MD is an experiential overnight science and ecology program that focuses on learning about and protecting our region's environmental resources. Its naturalists use Echo Hill's 242 acres of forests, meadows, freshwater shrub swamp and sandy beach on the Chesapeake Bay, inviting a wide variety of environmental studies. Our upper elementary students will explore the forest, meadows, ponds, streams, swamps, marshes, beaches, fields, and the waters of the Chesapeake Bay. Whether winding their way through the swamp or investigating the Bay's ecosystem on one of the 40-foot lab boats, the students are closely supervised by teachers fully qualified in experiential education. For additional information, visit the website.