At Home Montessori Activities for Toddlers
July 14, 2020
Dr. Maria Montessori believed that the objective of a Montessori education was not to fill a child with facts but to create their own natural desire to learn.
This idea does not only apply to the classroom environment, but it can guide what we do at home with our children.
Here you will find some ideas, activities and suggestions that guide Barrie School's Montessori practice, and that can be used at home in the areas of Practical Life, Food Preparation, and more!
Practical Life
"The exercises of Practical Life are formative activities, a work of adaptation to the environment..." Dr. Maria Montessori
Look for ways your child can help around the house and participate in meal preparation. Focus on the process not the result! Adjust the number of steps of an activity according to age. Your child will learn to take responsibility for their home environment. They will feel part of the family and find joy in being able to contribute. These activities offer language building opportunities, new skills and independence:
Meal Time - Help set and clear the table, wash dishes.
Cleaning - Dusting, sweeping with a small broom or brush, cleaning windows.
Help with laundry - Sort dirty clothing by color or light and dark. Put clothes in, take clothes out of the washer/dryer. Sort clean socks, find their match. Fold washcloths and hand towels.
Dress Themselves - Taking socks off and on, putting on a t-shirt, pulling pants up and down, fastening velcro shoes.
Caring for Pets - Filling a water bowl, feeding and brushing.
Caring for Plants - Water the plants, polish the leaves with a paper towel or soft cloth.
Open/Close - In a basket include 2 or 3 small household objects for opening and closing such as makeup containers, toothbrush holder, small change purse, decorative box, small Tupperware container. Allow your child to open and close each item.
Food Preparation
Meal Prep - Wash and scrub vegetables and fruit, beat eggs, toss a salad, scoop melons. Use an egg slicer to slice hard boiled eggs, or peel them. Allow your child to scoop their own cereal out of a container and add milk from a small cup.
Baking - Pour the ingredients into a bowl, mix the ingredients.
Banana cutting - Use an appetizer spreader, banana and plate. Take a banana and crack open the top. Allow the toddler to peel the banana independently and throw the peel away alone. Have them put the banana of a plate and cut it into pieces- allow them to eat as they want.
Clementine Peeling - You might have to start the very beginning- then let your child peel their own clementine and enjoy.
Spreading - Use an appetizer spreader or cheese spreader (small rounded spreader), small bowl of peanut butter/sunbutter/jam and a piece of bread, toast or cracker. Allow your child to spread and eat!
Try to say This, Instead of That……
Try "Hold the glass with two hands", Instead of "Don't drop the glass". Have confidence and give specific directions.
Try "What's the matter? Why are you crying?", Instead of "Stop crying, you'll be fine". Acknowledge your child's feelings.
Try "Let's find something else for you to do." Instead of " Do you want a time-out?" Redirect your child.
Try "You may have an apple or cheese stick today." Instead of "What do you want for a snack." Give a specific choice.
Did You Know?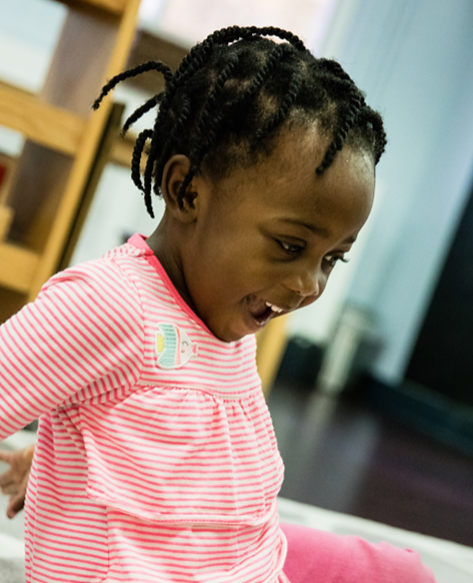 Grace and Courtesy lessons are taught in a Montessori classroom. These lessons help children learn how to greet one another, how to solve a disagreement, how to respect others, how to clean up after themselves, and more.
Peace Education is an important part of the classroom. Children learn about the world and also learn tools for calming themselves and conducting peaceful conflict resolution.
Multi-age classrooms are intentional. Peer learning is encouraged as the little ones learn from observing their older friends and the older children solidify their knowledge and gain valuable leadership skills through giving lessons to the younger children.
Circle Time Songs and Books